Browsing articles in "Brazil"
Got more concrete for you today from Brazil and Pedro Barros' home turf bowl arena which hosted a fierce contest a few days ago. Check out Eddie Elguera, Axel Perelson, David Gonzalez, Pedro Barros, Grant Taylor, Raven teershy, Christian Hosoi, Omar Hassan, Nathan Beck (handplant 540!) and so many other great skaters tearing up this bowl.
After having the Vans Bowl-A-Rama Bondi 2013 Saturday contest date being rained out, the storms stayed away to away for the 9th version of this contest in Australia to take place. What can I say – the level of skating keeps going up but no big surprises about who came out on top. In the Masters division the great Nicky Guerrero took the first spot and in the Pro Division Pedro Barros wasn't planning to take another second place spot at a bowl contest. Here are the final results and we have the entire final contest runs as a video clip below:
Bowl-A-Rama Pro results
1. Pedro Barros
2. Bucky Lasek
3. Rune Glifberg
4. Josh Stafford
5. Sam Beckett
6. Alex Sorgente
7. Brad McClain
8. Omar Hassan
Bowl-A-Rama Masters results
1. Nicky Guerrero
2. Steve Caballero
3. Eddie 'El Gato' Elguera
4. Pat Ngoho
5. Christian Hoisoi
6. Mike McGill
7. Sergie Ventura
8. Adam Luxford
Can't wait for the brand new Bowl-A-Rama event which will be taking place at La Kantera in Spain on July 6th in the excellant DIY bowl arena overlooking the Atlantic Ocean!
Some news for you: it's been a bit quiet around Danny Cerezini for a while but with this welcome video clip from Boulevard Skateboards it looks pretty obvious that he's off the Blind team now. Hope it helps him to get some new clips out for us all, he's got some serious skills on his board.
Kept you all waiting a while with the next Europeskate Photo Of The Day but here is a crisp black and white photo of Heron Beço doing an ollie off of some concrete children's playground obstacle. It was taken by "Thalles Ovelha Skatografia" (check out his Flickr gallery here) in Benevides, Brazil back in 2007 with a Kodak Easyshare Z8612 IS.
Big time travelling with the Converse Skateboarding team as they visit Brazil and enjoy a lot of skateboarding down in that pleasant sunny country. Enjoy these eight minutes of video.
The complete Adidas Skateboarding team travelled to Brazil and take it apart in just over 7 minutes of video footage with a bunch of great spots so get in that couch / seat and watch it!
All Europeskate Photo Of The Day Posts!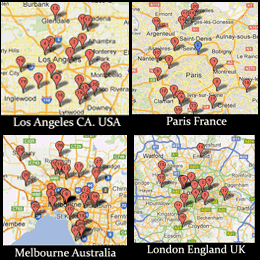 Find Your Skateboarding News Here!