Browsing articles in "Companies"
Getting the product infos out to you, Krooked Skateboards brand new online summer catalog for 2010 is waiting for you to check out with a 3D video trailer, a limited edition Mark Gonzales deck and the latest Krooked products – if you like these guys, then this is a catalog for you!
» Click right here to flip through the Krooked Skateboards summer catalog
» Check out the Krooked Skateboards website/blog
The show which took place during the 2009 Vans European Downtown Showdown was great to watch, what a location to make it all happen and just a great idea for a competition…videos will be coming but for now we'll all have to be happy with the results, congrats to the Element team!
And the final results are:
Team 1st EUR 15,000 – Element
Team 2nd EUR 10,000 РClich̩
Team 3rd EUR 5,000 – Alai
Fiat Freestyle Team Best Trick/Best Slam Prize – EUR 1,000 – Danny Brady
Heroin Obstacle 1st EUR 1,500 – Javier Menizabal
Heroin Obstacle 2nd EUR 1,000 – Chris Ault
Heroin Obstacle 3rd EUR 800 – Alain Saavedra
Clich̩ Obstacle 1st EUR 1,500 РChris Ault
Clich̩ Obstacle 2nd EUR 1,000 РMadars Apse
Clich̩ Obstacle 3rd EUR 800 РIngacio Morata
Blueprint Obstacle 1st EUR 1,500 – Jerome Campbell
Blueprint Obstacle 2nd EUR 1,000 – Lucas Puig
Blueprint Obstacle 3rd EUR 800 – Nick Jensen
Best AM EUR 4,000 – Philippe Zwijsen
Best PRO EUR 6,000 – Javier Menizabal
Getting ready for the weekend and you want some fresh ideas for tricks you might want to try out? Then take 5 and watch this bonus throw-away footage from the late "Debacle" skate video from the Nike SB team – ummm, just good as hell! Enjoy…
Deluxe is back with the next edition of their online catalog for Fall 2009. Real Skateboards, Krooked Skateboards, Thunder Trucks, Spitfire Wheels and Anti-Hero Skateboards get a bunch of limelight in this issue. The old school video games from Real Skateboards are a great idea and truly engaging – smart idea to get people coming back for more, marketing genius! And the Real Gaming Experience deck series is an eye catcher – hope to get my hands on some of these. Lance Mountain shows off some of his art skills with the new Anti-Hero Skateboards Skull Series decks and – heck, click through it yourself, there's so much to see, I'm not going to just write it all so click on the catalog cover below and enjoy!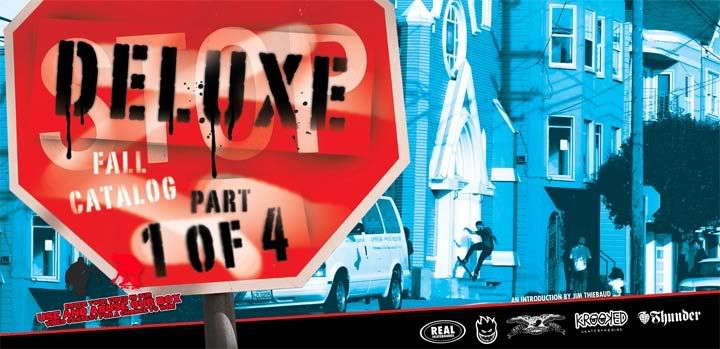 This past weekend the éS Game Of Skate European Finals 2009 in Paris took place with a visit from several top pros who were on the éS The Great Escape tour including Rodrigo TX, Javier Sarmiento, Mike Anderson, Justin Eldridge, Bobby Worrest, Rick McCrank and Danny Garcia. After a long day Sewa Kroetkov from Holland took away first place with Francesco Marconato in second and Jakub Sindelar taking third place. Check out the final video below and for a very extensive report with tons of photos head on over to the French website "Le Site du Skateboard".
Some big names in skating will be packing their bags to head over to Europe for two whole weeks of skate tour madness. The European Globe team members Eero Anttila
and Philipp Schuster will hook up with Chris Haslam, Rodney Mullen and Ryan Decenzo! 4 main stops are planned in London, Lyon, Madrid and Berlin beginning October 1st. Looking good…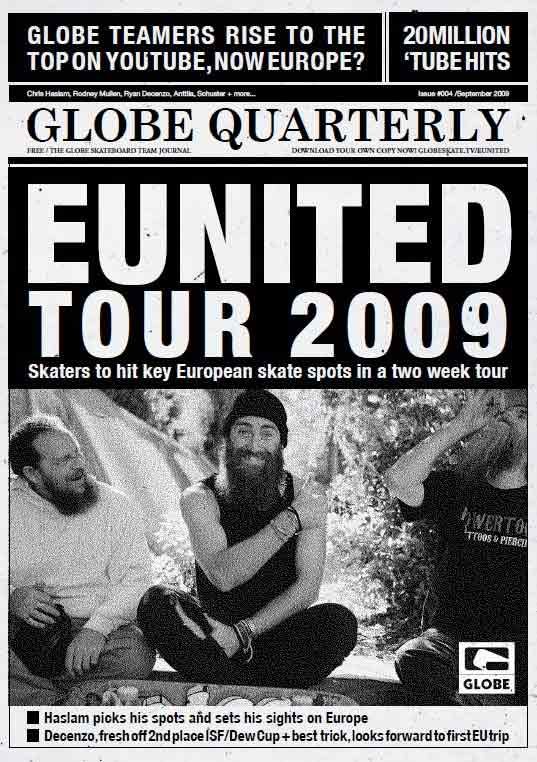 All Europeskate Photo Of The Day Posts!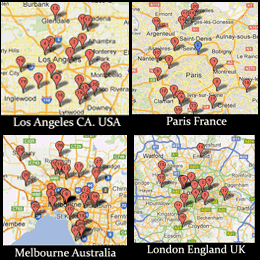 Find Your Skateboarding News Here!