Browsing articles in "Skateboard Contests And Events"
The Skate Rock Japan tour ends with more slam dancing, ramp rage and an amazing sea wall session.
On March 2nd the Vans Skatepark in Orange, California was the host of a very special reunion. The entir original Bones brigade team joined up once again for an exclusive event taking place for contributors to the Tony Hawk Foundation who together contributed over $100,000 dollars to help build free public skateparks across the US.
Fantastic idea but now how about getting some parks in some more needy spots on this planet as well?? I think that's a pretty great idea. Now sit backand enjoy this session as I doubt it will ever hppen again!
The Bowl-A-Rama videos keep flowing into our inbox and that's great, keep them coming. Mostly Pedro Barros and some Felipe Foguinho share 4 minutes of lines with us in this clip from the various Bowl-A-Rama events and yeah, it's all damn good skating, what do you expect?
The organizers of the Vert Attack 7 really know how to keep the suspense up for a vert contest and that is a hell of a job these days. This video clip has been out a few days but I think it's worth watching again to see who's coming! So if you can make it to Sweden, it's all happening March 15th and 16th 2013!
After having the Vans Bowl-A-Rama Bondi 2013 Saturday contest date being rained out, the storms stayed away to away for the 9th version of this contest in Australia to take place. What can I say – the level of skating keeps going up but no big surprises about who came out on top. In the Masters division the great Nicky Guerrero took the first spot and in the Pro Division Pedro Barros wasn't planning to take another second place spot at a bowl contest. Here are the final results and we have the entire final contest runs as a video clip below:
Bowl-A-Rama Pro results
1. Pedro Barros
2. Bucky Lasek
3. Rune Glifberg
4. Josh Stafford
5. Sam Beckett
6. Alex Sorgente
7. Brad McClain
8. Omar Hassan
Bowl-A-Rama Masters results
1. Nicky Guerrero
2. Steve Caballero
3. Eddie 'El Gato' Elguera
4. Pat Ngoho
5. Christian Hoisoi
6. Mike McGill
7. Sergie Ventura
8. Adam Luxford
Can't wait for the brand new Bowl-A-Rama event which will be taking place at La Kantera in Spain on July 6th in the excellant DIY bowl arena overlooking the Atlantic Ocean!
The Vans BOWL-A-RAMA Bondi 2013 bowl contest has been postponed until Sunday, February 24th due to bad weather. While everybody waits we'll show some of the action from this year's event.
All Europeskate Photo Of The Day Posts!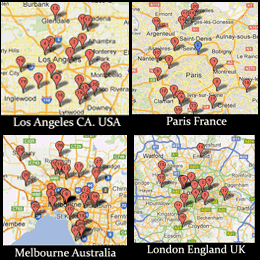 Find Your Skateboarding News Here!