Browsing articles in "Skateboard Hardware"
Daniel Shimizu, Clint Peterson, Willy Akers, Ryan Harris, Marius Syvanen, Wes Kremer, Sid Melvin, Alex Horn, Jon Dickson and a few more skaters rip a bunch of spots for OJ Wheels – loving the grinds in those pools!
Yeah, it's giveaway contest time on Europeskate once again and we've teamed up with Murder Skateboards to get 3 packages of free skateboard gear spread out to you.
This upcoming weekend on March 15th and 16th 2013 the 7th edition of the Vert Attack halfpipe skate contest will be taking place in Malmö, Sweden at the Bryggeriet Skatepark and Murder Skateboards is one of the sponsors of this fantastic event which is going to be attracting a huge number of top vert skaters from around the globe once again. As nobody has a complete list of the contestants yet we're going to make this really simple for you to win one of the three Murder Skateboard skate gear packages with a free skate deck, a set of wheels and some clothes added in as well.
To sign up for a chance to win here's what you have to do: (Reminder: final entry date is Friday, March 15th 23:59 GMT)
1) Leave a message under this post saying who you think will win the Pro Division contest (it doesn't matter if you are right or wrong, we're just interested in what you think!)
2) If you want to double your chances at winning one of the three stuffed skate packages from Murder Skateboards, then just share this link – http://www.europeskate.com/vert-attack-vii-europeskate-murder-skateboards-giveaway/ – on Facebook and/or Twitter as well!
3) That's it! We'll be announcing the three winners by March 19th 2013 on Europeskate and our social networks (after we have contacted them and they say yeah, I'm a real person!)
In the Pro divison Lincoln Ueda, Kevin Kowalski, Brad Mcclain, Josh Stafford, Andy Scott, Juergen Horrwarth, Rony Gomez, Italo Pennarubia, Giorgio Zattoni, Renton Millar, Jocke Olsson and Sam Becket are supposedly turning up and in the Masters division Steve Caballero, Christian Hosoi, Tom Boyle, Nicky Guerrero, Mark Scott, Mathias Sernklo, Dave Allen, Johnny Sandberg, Puttis, Götberg, Sean Goff, Jeff Hedges, Peter Furnee and many more have been planning to make the trip to Sweden.
So leave your comment and share this link with your friends to have a chance to win one of the skate packages! And everybody who can't make it to Sweden, the website Skate Malmö will have a live webcast for the entire event once again!
Sometimes I need not only one reminder but around 5 to get something done and that has been the case with presenting the Dutch skateboard company Liquid Skateboards so sorry guys, my mistake!
They supplied me with a test board last year, the 8.25 Robot deck which I skated on all terrains (street and mainly bowl and halfpipe) with Indy Trucks and either Bones Wheels in the bowl/halfpipe or Teenage Runaway wheels while riding the streets. Made out of 100% Canadian maple wood, the deck surprised me with a really comfortable concave that worked for me everywhere, a good solid flex and a nice pop . Altogether I was happy to have made the contact with Liquid Skateboards as I had a good board for over a whole month of skating.
Because of my delayed report of course a new collection of decks has come out in the meantime and these guys have a good feeling for nice designs. Besides skateboard decks, Liquid Skateboards offers wheels, cruisers, clothing and some various accessories as well, worth a look and support!
Magenta Skateboards have put out some new WINTER 2013 skateboard decks including the BOOK series featuring a SEB DAUREL guest board & new one-offs with a JOHN LINDSAY Guest Artist board. Check out their large array of products which as usual has some great style.
Yeah, this video has been out there for a bit but that doesn't matter – it's still good to introduce you to Ashes Griptape and some of the rocking team such as Steve Forstner, Madars Apse, Ferit Batir, Sylvain Tognelly, Oscar Candon, Phil Zwijsen, Sebi Dorfer & Chris Pfanner with this video edit.
Tas Pappas was one of my favorite vert skaters ever but he sort of disappeared from the major scene for a few years. Now he's back with a guest board for Cliché Skateboards and after watching his video clip below, you'll think he was never gone! Good to see him ripping vert again!
All Europeskate Photo Of The Day Posts!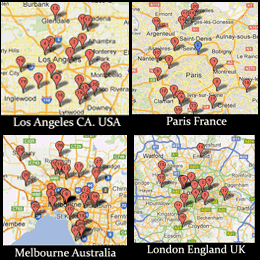 Find Your Skateboarding News Here!