Browsing articles in "Skateboarders"
Things just keep getting wilder in skateboarding – check out Tony Hawk and Aaron 'Jaws' Homoki each landing a McTwist but with the small difference to the usual: Tony Hawk is doing it above Jaws at the same time! It al happened at a demo in Warsaw, Poland.
This is like a dream come true. An amusement park, abandoned and with sick transitions everywhere. And when I say sick, I mean it – that first slide / pipe is nuts! Justin Brock, Pat Mclain and Dan Plunkett enjoy a day at this different type of park.
Were you there or did you watch the action at the Vans Pool Party 2013 finals? It goes without stating the obvious that is was going to be one heck of a skateboard contest but it blew me away once again. Here's a short video summary of some of the action that took place yesterday during the contest.
Opinions on who should have won in the Pros division are once again divided but I believe it's just so cool to see the level of skating that went down in those bowls. Bucky Lasek pulled out all of his tricks, ruled the entire park and landed tricks in spots that I just can't see as possible. Pedro Barros – what can you say: he's a whirlwind in any bowl/pool and the height of his airs and the length of grinds is unbelievable. And Rune is just Rune – smooth and in control. In the Masters division I personally believe it was perfectly clear with Chris Miller continuing to grow older and his skating is just stays plain and simply amazing. Fast and furious, I can't wait for more video edits and photos to turn up from the Vans Pool Party 2013!
Masters
1. Chris Miller (Del Mar, CA)
2. Steve Caballero (San Jose, CA)
3. Christian Hosoi (Huntington Beach, CA)
Pros
1. Bucky Lasek (Encinitas, CA)
2. Pedro Barros (Florianopolis, BRA)
3. Rune Glifberg (Copenhagen, DEN)
Jürgen Horrwarth skates all terrains at a high level but when it comes to vert skating, he belongs to the world's best skaters. Just before his video part for Trap Skateboards is released he's been featured in this "Owl Eyes On" video edit with minimal lighting at his home vert ramp in Berlin, Germany. Can't wait for his Trap Skateboards part!
Ambig's "Modern Art" is in my opinion at the very top of the best skateboard videos around and I personally really like to watch bowl, pool and vert skating.
Clive Dixon gets this video started with a bang with Moose, Matt Bennett, Sean Conover and JT Aultz adding in some serious shred inbetween. Clint Walker ends this 16 minute deluxe mix of skateboarding with an unbelievable part. Well done is all I can say and watch it again…and again!
Got more concrete for you today from Brazil and Pedro Barros' home turf bowl arena which hosted a fierce contest a few days ago. Check out Eddie Elguera, Axel Perelson, David Gonzalez, Pedro Barros, Grant Taylor, Raven teershy, Christian Hosoi, Omar Hassan, Nathan Beck (handplant 540!) and so many other great skaters tearing up this bowl.
All Europeskate Photo Of The Day Posts!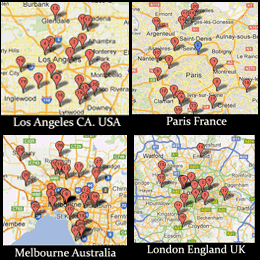 Find Your Skateboarding News Here!