Browsing articles in "Skatespots Germany"
My hometown has been waiting for this for months now – the brand new Hamburg-Wilhelmsburg skatepark has officially been opened "to the public" and (as I am still on vacation close to Helsingoer, Denmark skating the outdoor park there) it looks really good.
Being one of the largest concrete parks in all of Germany, it was built by Hamburg's Minus Ramps team mixing street plaza elements with a lot of flow which continues into a snake run and bowl area with pool coping!
I'm driving back to Hamburg tomorrow and on Monday I get my "season" ticket for the park because I'm part of the local skateboard club. That's the only problem at the moment. The skatepark is located in the new international garden show which is open from April 26th until October 13th of this year and you have to pay to get in. And the price during the day is really steep: 21 Euros if you are over 17 years old. There's an evening card which is still 9 Euros.
I'll be adding a video next week when I've skated it and I'll keep you up-to-date about any possibilities to get in cheaper. If you are in town to skate, give me a shout with a mail or call me up (check the contact page for my contact info)!
Berlin keeps on growing as the next big skateboard place-to-be in Europe with the latest addition of the indoor part of the Betonhausen concrete landscape. This project has been growing for years and it just keeps getting better. Lance Mountain, Tom Penny, Curren Caples and a few other rippers were there to give it a ride and yeah, it's tight, tough to ride but it looks really fun!
My hometown Hamburg, Germany has been receiving it's fair share of skate teams visiting the various skate spots we have in town. Ryan Sheckler, Cairo Foster, Willow, Axel Cruysberghs, Nick Garcia, Julian Furones, Barney Page and Octavio Trindade came this week for the Etnies "Under Your Feet" tour to the indoor I-Punkt Skateland park and literally destroyed it! One of the best street demos I have seen in a long time.
Finally we got some video footage from the Spitfire Wheels and Thrasher Magazine Thrash and Burn Europe 2012 tour stop in Hamburg, Germany at the great DIY spot Flora Bowl. Check out Tony Trujillo, Ishod Wair and Grant Taylor taking the concrete transitions apart
The days are being counted, a place to stay is waiting and all I need is a ride to Munster, Germany next Thursday morning for this year's Volcom Bergfest 2012 Bowl Contest – July 20th and 21st. Ben Hatchell, Walker Ryan, Renton Millar, Jocke Olsson, Tim Bijsterveld, Anders Tellen and many many more skaters are making their way to this skate contest which was incredible last year and is already looking awesome once again.
I'll most likely be judging this year besides Ben Schroeder and I hope to make it early to get some skating done myself as the park is great! Check out some of the atmosphere and skating from last year below!
The Black Glove tales continue in this following video from the Blueprint Skateboards team as they skate German spots. Featuring Jerome Campbell, Mark Baines, Neil Smith and Colin Kennedy…
All Europeskate Photo Of The Day Posts!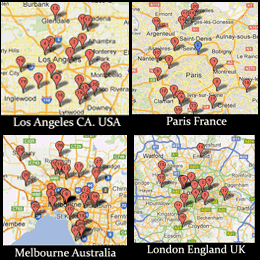 Find Your Skateboarding News Here!