Find out which companies and skaters (I've heard about) are helping the people in Haiti.
Ever since the devastating earthquake hit Haiti on January 12th 2010, the terrible reports of the many people who have died, continue to suffer and need help keep the media busy and remind us about what we should be doing – helping out anyway we can. The numbers of dead are incomprehensible, the destruction to property and souls just as well.
I decided to sit down and gather information about any skateboard company, skater or anything related to skateboarding which is trying to help get funding to the people of Haiti. If you know about anything going on which is working to support this cause, give me a shout and write an email about it so that this list can grow – this is work in progress. I'll be linking to it from every page on Europeskate and you can just spread the word so that if you are going to by some new skateboard products, think about getting something that will help these people on Haiti – it's the least we can do. Here we go – it's some copy and pasting as well going on – I just want the information on the page!
Control Manufacturing (Canada): Visit their site »
"…special edition skateboard. 100% of the proceeds from the sale of these boards will go to the people of Haiti via the Red Cross. This board will go on sale across Canada within the next 2 weeks. This board is made out of 100% hardrock Canadian maple at the Control Manufacture in St-Nicolas, Canada. The project however is one of our sales team. We will use all the contacts we have built over the last 15 years to reach out to all shops, brands and skaters across Europe, Canada, USA and South America that currently buy boards from us." And I just read on Skate and Annoyx that the Canadian government is doubling the donations given, spot on!

Real Skateboards: Visit the site »
Real Skateboards has put together an "Actions REALized deck" which will be in skate shops and stores probably by now with benefits from the sales going towards the Red Cross's relief efforts in Haiti.
Upful Skateboarding: Visit their site »
The next company helping out is out of California and they've put together a set of special edition bolts named the "Helping Hands For Haiti" Benifit Bolts. All proceeds will go to the Yéle Haiti Fund (visit the site ») for relief efforts.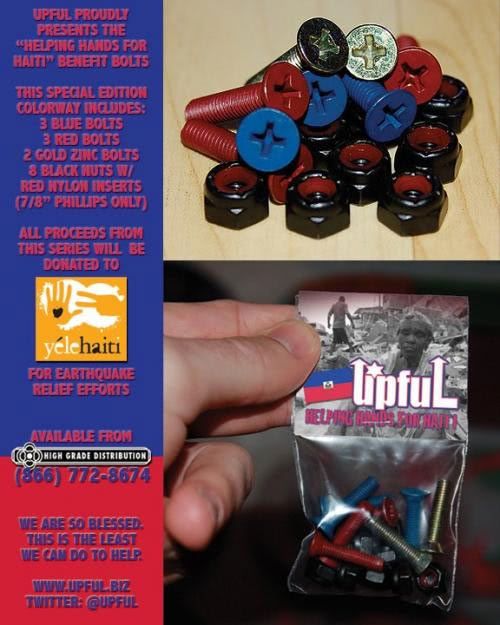 Thanks to those companies already for their support. I did look around quite a bit and surprising I didn't find anything else…so do let me know if you know about other projects to help Haiti.
To donate directly, the Red Cross is definitely one of the major help organizations you can donate to and help out immediately. Check for your local country's Red Cross to help today!
3 Comments
All Europeskate Photo Of The Day Posts!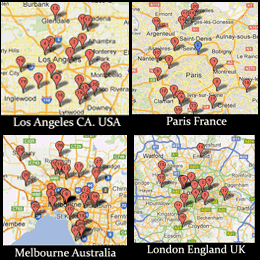 Find Your Skateboarding News Here!