Latest Skateboarding News On Europeskate!
Last Update: Thursday, May 16th 2013 09:16 GMT+2

Busy busy week for me at the moment as I am basically just writing and answering mails for the United Skateboard Photography Project and I hope to sit down and add tons of updates to the project's page today. I have also been getting new inspirations and ideas together for the next Europeskate relaunch which is coming soon. But the news and videos are still flowing: check out Antiz Skateboards Marock n Roll tour video and then get out and skate something. I'm headed out for a morning mini ramp session to warm up!

If you haven't heard about it yet, the United Skateboard Photography Project is now officially backed by the Grind For Life organization!

Grind For Life will be supported through 50% of the sales revenue of a printed 300-page hardbound book/mag with 5,000 copies being printed in the first run targeted to be released worldwide in November 2013 with skate photography + a Q&A + contact information from 50 selected photographers.

I am looking for skateboard photographers around the globe to show off their work (ONLY rights of use of the photographs for the website, advertising and book is needed: ALL photographs remain in the participating photographers ownership!) on the dedicated website and also you have the chance to be a part of a supporting a great cause - Grind For Life! Get involved and contact me at info@unitedskateboardpp.com today!

Jonathan

Ambig's "Modern Art" is in my opinion at the very top of the best skateboard videos around and I personally really like to watch bowl, pool and vert skating.
Clive Dixon gets this video started with a bang with Moose, Matt Bennett, Sean Conover and JT Aultz adding in some serious shred inbetween. Clint Walker ends this 16 minute deluxe mix of skateboarding with an unbelievable part. Well done is all I can say and watch it again…and again!
Finally back with a new Europeskate Photo Of The Day for May 8th 2013. I've been concentrating so much on contacting photographers for the United Skateboard Photography Project that I've slacked a bit on presenting them here so sorry about that.
Today's Photo Of The Day was taken by Adam Alessi (check out his photo gallery here) and features James Martin doing a halfcab heelflip in Camarillo, California.
The Vans Pool Party 2013 contest practice and qualifying sessions have already been taking place and these bowls at the Vans Skatepark in Orange, California will always fascinate me. The level of skating continues to rise and this contest will prove once more that skateboarding is here to stay. A live webcast will be broadcasted May 11th 2013 through this link.
This "Marky Numbers" video has some really mad tricks – watch it and don't be distracted by the choice of music, the video set up and whatever else. Just watch the skating. Sick stuff!
Hey everybody. If you're not on your board then you have shitty weather, a broken bone or you had one hell of a night out yesterday.
whatever you're reason is for being in front of the computer is, there's loads of skate actiion going on right now at the Vans Spring Classic contest in Varazze, Italy right now. Watch the live webcast right here:
Just wish I knew where the hell this session / contest took place but Marlon Silva surely ripped it apart with some crazy tricks!
All Europeskate Photo Of The Day Posts!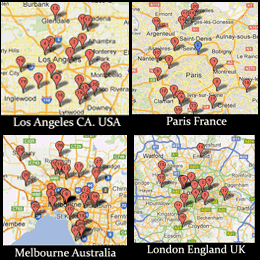 Find Your Skateboarding News Here!