Latest Skateboarding News On Europeskate!
Last Update: Tuesday, May 21st 2013 15:06 GMT+2

What ever is going on outside with the weather, it just plain sucks again! At least it's getting me back in here to get everything moving again after spending the entirer wekend fixing up the USPP site. So I'l get those major changes done here on Europeskate as well as keep the news flowing this week.

If you haven't heard about it yet, the United Skateboard Photography Project is now officially backed by the Grind For Life organization!

Grind For Life will be supported through 50% of the sales revenue of a printed 300-page hardbound book/mag with 5,000 copies being printed in the first run targeted to be released worldwide in November 2013 with skate photography + a Q&A + contact information from 50 selected photographers.

I am looking for skateboard photographers around the globe to show off their work (ONLY rights of use of the photographs for the website, advertising and book is needed: ALL photographs remain in the participating photographers ownership!) on the dedicated website and also you have the chance to be a part of a supporting a great cause - Grind For Life! Get involved and contact me at info@unitedskateboardpp.com today!

Jonathan

Just wish I knew where the hell this session / contest took place but Marlon Silva surely ripped it apart with some crazy tricks!
Got more concrete for you today from Brazil and Pedro Barros' home turf bowl arena which hosted a fierce contest a few days ago. Check out Eddie Elguera, Axel Perelson, David Gonzalez, Pedro Barros, Grant Taylor, Raven teershy, Christian Hosoi, Omar Hassan, Nathan Beck (handplant 540!) and so many other great skaters tearing up this bowl.
This is the type of "street" / park skating I really enjoy watching. Wes Kramer combines flow, speed, style and his own originality to create this video clip which was filmed at the DC Shoes Embassy in Barcelona.
Alain Goikoetxea has been on top of his skateboarding skills for so many years and Volcom has put together this video clip to honour his 15 years of being a part of the their team. The Basque ripper lives up the hill from the famous La Kantera park in Algorta which is definitely one of the coolest spots around to skate at. Enjoy watching Alain's smooth skating mixed with so many sick tricks!
Patrick Pearse spent a day with Steve Olson for Desillusion Magazine and the result is this cool video edit. Steve sure is one smoking machine!
Red, Willis Kimbel, Alex Foy, Adam Soles, and Andy Adams hit a bunch of concrete transitions in the north west of the US. Where is that bowl located at the end, it's freaking huge!
All Europeskate Photo Of The Day Posts!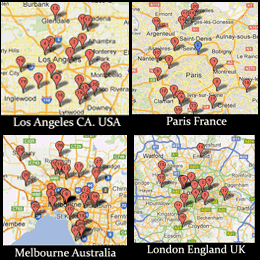 Find Your Skateboarding News Here!