Latest Skateboarding News On Europeskate!
Last Update: Tuesday, May 21st 2013 15:06 GMT+2

What ever is going on outside with the weather, it just plain sucks again! At least it's getting me back in here to get everything moving again after spending the entirer wekend fixing up the USPP site. So I'l get those major changes done here on Europeskate as well as keep the news flowing this week.

If you haven't heard about it yet, the United Skateboard Photography Project is now officially backed by the Grind For Life organization!

Grind For Life will be supported through 50% of the sales revenue of a printed 300-page hardbound book/mag with 5,000 copies being printed in the first run targeted to be released worldwide in November 2013 with skate photography + a Q&A + contact information from 50 selected photographers.

I am looking for skateboard photographers around the globe to show off their work (ONLY rights of use of the photographs for the website, advertising and book is needed: ALL photographs remain in the participating photographers ownership!) on the dedicated website and also you have the chance to be a part of a supporting a great cause - Grind For Life! Get involved and contact me at info@unitedskateboardpp.com today!

Jonathan


The Tampa Pro 2008 contest is a wrap and I have to admit, I even missed the webcast yesterday doing more fun things like skating, messing my back up and drinking to block the pain…didn't really work and luckily the guys from 411 Video magazine and Skatedaily.net have put up the results with some pictures and videos as well.
Something that doesn't exactly in my opinion have anything to do with the contest directly is the fact that Antwan Dixon was put behind bars for several offences which are all freely available on the Internet, check it right here…no way and I don't think it's good to be able get this type of info. It's his life but the fact that anybody gets to read this, now that's fucked up if you ask me. I live in Germany and I was a bit too young when I left the States to get arrested so I had/have no idea how that works and I really don't want to find out. But talk about walking all over your rights as a citizen to freedom and privacy. Surely not the best way to spend a contest weekend but why should everybody know what happened? Beats me, hope you get off the hook Antwan.
So to get back to the real story, here are the results from Tampa Pro 2008 contest (with the Am Vert contest as well, check out the winner video on 411′s website. Ben Hatchell already got second place earlier this year at the Tampa Am street contest and showed off his skateboarding skills in the halfpipe as well!)

Street results
1. Greg Lutzka $20,000
2. John Rattray $15,000
3. Mike Peterson $10,000
4. Matt Beach $5000
5. Ryan Sheckler $4000
6. Kyle Berard $3000
7. Danny Fuenzalida $2000
8. Eric Koston $1750
9. Dennis Busenitz $1500
10. Stefan Janoski $1250
11. Chad Fernandez $1000
12. Shuriken Shannon $1000
Street Best Trick
1. Adam Dyet – Nollie Cab heel boardslide $3000
Pro Vert results
1. Pierre Luc Gagnon
2. Danny Mayer
3. Buster Halterman
4. Adam Taylor
5. Neal Hendrix
6. Jussi Korhonen
Am Vert results
1. Ben Hatchell
2. Pedro Barros
3. Ronaldo Gomes
4. Sam Beckett
5. Martin Andre

If you haven't noticed yet, skateboarding has long arrived in the big business arena which involves take-overs and sell-offs. According to the Transworld Business website, the skate shoe retailer Duffs International was sold last Wednesday to its British retailer, Jackal Distribution by the Canadian parent company Genfoot Inc.
The North American main team will most likely keep its presence in the US which will not avoid a few lay-offs and that's about all of the information revealed in the article. So it remains to be seen how this will affect the US market and if there is a change for the future in the marketing of the Duffs brand.
Nothing has been mentioned on their website yet but here's the link anyway: Duffs website
16 episodes later the story comes to an end for the Epicly Later'd episodes about John Cardiel. Truly a moving story about a skateboarder who has left an impression on skateboarding second to no other. The energy coming out of just what John says can almost be felt and it is definitely a message to everybody who watches these movies – enjoy it while you can and do it 100%. John's complete attitude towards life and how he keeps moving on should be an inspiration for us all.
All hail Cardiel, now that is really all I can say right now. Enjoy the last two episodes right here.
Episode 15 of 16

Episode 16 of 16


Watch all of the John Cardiel Epicly Later'd episodes right here…
Updated June 27th, 2008: It seems that the collaborative work going on between Spotlight Productions and the Copenhagen Skatepark is working well as the latest news is that the 2. Annual Copenhagen Pro contest will be taking place June 20 – 22nd June 27th – 29th at the – hmmmm, guess where – yeah, Copenhagen Skatepark with $50,000 $70,000 bucks in the purse for both street and vert contests. This is going to be one heck of a contest and correct me if I am wrong, this is one of the biggest prize purses I have seen in Europe in a long time.
The contest site is already up but sparsely filled with information, but you may want to bookmark it for the future:
Copenhagen Pro Contest 2008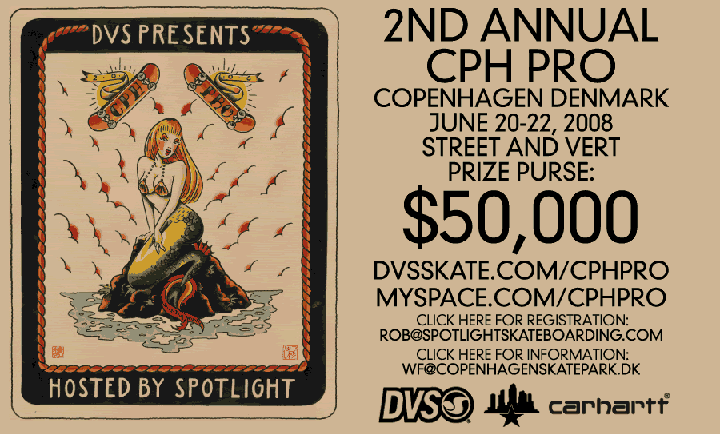 The guys from Slap Magazine have put together the next issue of their magazine, the April 2008 issue, with an interesting sounding article about mainstream TV and how it is and will affect skateboarding as a whole. Interviews were done with Ryan Sheckler, Rob Dyrdek and Bam Margera which will truly be a good read to see what some of skateboarding's most influential media representatives have to say about the topic.
Also to be found in this issue: interview with Nick Jensen, a trip report to China with the LRG team and an artist insight with Todd Bratrud who also took the time out to design this issue's cover. sounds good to me, $3.99 in the States and a little more elsewhere.
Volcom has a lot of surprises up their sleeves and the next one is another mini ramp contest, this time in the Basque town of Durango in Spain. The entire madness will take place May 3rd. 8000 euros prize money up for grabs but you have to register to get involved. To get there, get to Bilbao and then it's not that far! Here's a map view so that you know where to head to: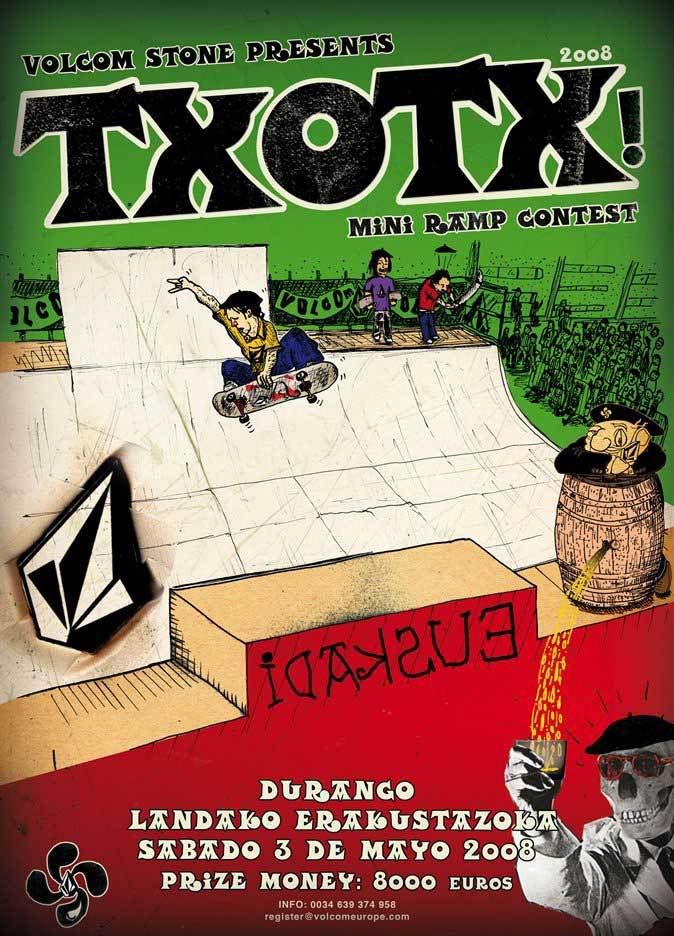 All Europeskate Photo Of The Day Posts!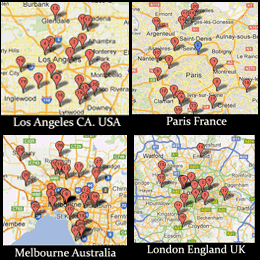 Find Your Skateboarding News Here!