Latest Skateboarding News On Europeskate!
Last Update: Thursday, May 23rd 2013 12:12 GMT+1

Another round of big changes taking place on Europeskate as I'll be rebuilding the site - I want something new to work with so stay tuned. I'm keeping the news, interviews, videos, the music tips and product checks coming your way at the same time so keep on checking in. Have you seen the double McTwist video with Tony Hawk and Jaws yet? Another piece of skateboarding insanity!

If you haven't heard about it yet, the United Skateboard Photography Project is now officially backed by the Grind For Life organization!

Grind For Life will be supported through 50% of the sales revenue of a printed 300-page hardbound book/mag with 5,000 copies being printed in the first run targeted to be released worldwide in November 2013 with skate photography + a Q&A + contact information from 50 selected photographers.

I am looking for skateboard photographers around the globe to show off their work (ONLY rights of use of the photographs for the website, advertising and book is needed: ALL photographs remain in the participating photographers ownership!) on the dedicated website and also you have the chance to be a part of a supporting a great cause - Grind For Life! Get involved and contact me at info@unitedskateboardpp.com today!

Jonathan


Update March 7th 2008: Just for all of you to know before someone freaks out – this is a joke!
Here's the official press release:
"In a move that shocked the skateboard world at large, Baker Skateboards held a press conference yesterday to announce that Dustin Dollin is retiring from the world of professional skateboarding.
"Well I've had a good run, I grinded some big rails, I had a bunch of pro-model boards, wheels, and trucks. I've had pro model denim with Volcom, and I've had a series of very successful pro-model shoes with the Vans shoes company." The Australian native told the press in attendance. "I honour and cherish my time as a pro skater, but the fact of the matter is that I'm getting older and my body just can't take the punishment much longer. I'm known for going pretty big, and it's taken a toll on my body."
Andrew Reynolds, the founder and owner of Baker went on to state. "This is a huge loss to Baker Skateboards, not to mention all of skateboarding. Dustin is one of a kind, both as a person, and as a skater. I'm sad to see him go."
Dollin went on to divulge his future career plans. "I'm getting into the fashion industry. Anyone who saw my episode of Epicly Later'd knows that I am really into fashion, and have a keen sense of creativity. The good thing about my new career is that it will still allow me to dabble in the skateboard industry. I'll be helping with apparel design at Baker, I have some great ideas for some puffy shirts, and I'll also still be helping out at Vans with shoe designs. Right now though my main focus is on the world of high fashion. I've recently signed a contract with Benjamin Cho as a runway director, and I am really excited about that. There are a lot of similarities between skating and walking the runway. Both take grace, finesse, and a lot of courage. With that in mind, I believe I am in a unique position to bring a little bit of extreme to the runway."

Just got this hot off the press (well, straight out of Tacky's fingers – I just like that figure of speech!) from Tacky Central so no need to adapt their words – good to see a good bunch of people growing and covering the skateboard and snowboard scene with the quality they do…
>> Tacky Products, the largest media network for skateboarding and snowboarding in Europe acquires Nolla.net, the main source of information on the skateboard scene in Finland. Combined the two media companies cater to 1.44 million unique readers.
Former Managing Director of Nolla.net, Harri Puupponen, joins the management team at Tacky Products with special responsibility for technical development. Puupponen is a professional skateboarder and programmer.
"We are very pleased that Harri agreed to join our operations. He will give us tremendous assets having background from a mobile tech craze driven society combined with an excellent understanding of the needs of our readers. Harri's skills will prepare us for our IMTV/Triple play (internet mobile television channeling). Nolla.net fits neatly into our portfolio and saves us plenty of work in Finland. With our love for skateboarding and snowboarding we will continue to grow throughout Europe and to provide a community, an information source and link to the outside world. Tacky is now one of the few rider owned medias left in the business" – Jean Moe, Managing Director, Tacky Products.
The network now consists of eight online magazines covering Finland, Sweden, Norway, Denmark, the Netherlands, Belgium and Italy in local languages and content, in addition to the international site www.tackyworld.com. Expansion plans include 32 countries over time, out of which 10 are scheduled to open in 2008.
Tacky Products consists of:
www.tacky.se
www.tacky.nl
www.tacky.no
www.tacky.dk
www.tacky.it
www.tacky.be
www.nolla.net
www.tackyworld.com

Just thinking about what happened at the contest and that's when this good update with pictures popped into my inbox. Let the rest do the talking thanks to a round-up by a Mr. Chris Cab…
"Seeing Roman Astleitner, the Initiator of the 5th KOTR, was knocked out half an hour before the Contest started, while clashing with the "D-Train" aka Ferit Batir, it is now on my behalf to write a few words about the Sk8boarding Mini-Ramp-Madness that was going down this past weekend in Wörgl / Tirol (Austria). Anyway after a brake of some hours but still with a pale face Roman gathered strength and skated in one of the last heats and entered the finals!
Tons of Sk8ers from all over the Globe made their way to Tirol. We had Brazil in the house, Spain, France, Germany, England, Finland, Belgium, Czech Republic and many more including last but not least the Austrian Locals. Holding it up strong all weekend and giving the other shred heads a really hard time. Especially Ferit was making it close to impossible for others to drop in, seeing he was soooo fast, at times, overtaking himself and ending up slamming not so soft but rather hard.
Just to name some of the gnarliest tricks that went down: Finger flip Lien to Tail by Danger Dave Martelleur on the insane Oververt Section with Granit Tiles on top, making him take home the Best Trick Award of the Day. Axle stall on the handrail of the big bank by Ferit Batir. Andy Scott with all his entire lines, just so mellow you won't even notice that he was around, but man, when he is on fire, he IS on fire, nailing all his tries sooner or later, going hi to low and cruising surf style, his big stand out for me was the really low to Oververt Smith Bashers! But seriously everyone was on fire and like a good old friend of mine likes to say: Every Heat was a Final…
"Death Match" mode was crazy to watch and did include one or the other head on slam. But for more info on that ask Asti, not that he could remember (was blacked out for several minutes) but anyway. Either way you look at it, it was a sick weekend, the crowd was stoked and it was surely not the last KOTR we will see! Big up to all the riders who joined a really fun weekend and thanx to all the present sponsors! Watch out for the Movie of the Mayhem, will/should be out soon to follow. Do not ask me about the party, someone else will have to tell you about that because now that is where I blacked out bad and do not have memories to tell, but I think the bands were really sick…! So long and see you again next year, if not, only your bad, you sure are gonna miss out… Ahooooooy, Cab – OUT -"
And here are the results for you…
1. Anders Tellen (Germany)
2. Martin Jurasek (Czech)
3. Andy Scott (England)
4. Guillaume Mocquin (France)
5. Harri Puupponen (Finland)
6. Emilio Arnanz (Spain)
7. Ferit Batir (Austria)
8. Roman Astleitner (Austria)
9. Alex Giraud (France)
10. David Martelleur (Belgium)
Best trick(s):
Danger Dave: Finger flip lien to tail on the Oververt section
Ferit Batir: Axle stall on the handrail of the big bank
And this guy sure looks like he's deserved to receive this award from Australia's Slam Skateboard Magazine. Not only turning pro for Almost Skateboards just earlier this year, he has now been crowned Slam's Skater of the Year. Lewis has got some really nice style and a range of tough and tech tricks to go with it. Hope to see him over in Europe again this year. Way to go Lewis!
Want to know a bit more? Then read the interview doen by the guys over at Caught In The Crossfire…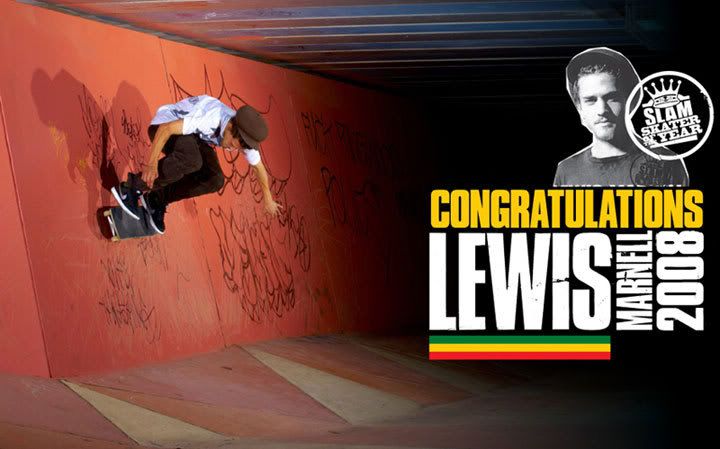 Sidewalk Skateboarding Magazine sent over a couple of their hard-working employees to the ASR and they decided to hang out in the States for a few more weeks. Ben and Hoss stayed in LA for a couple of extra days and hung out with some new and old friends.
Ben has filmed and edited a couple of clips for you all to enjoy, starting with this short edit of David Gonzales and Louie Lopez, including the footage of this months cover. There, straight from the horses's mouth just for you and here's the video clipping from the guys over at Mpora:
And so that you don't get all bored and complain about not having enough to read and devour, Sidewalk was kind enough to bring out a new issue of the print magazine #138 and here's a pic so that you can find it at your local newsstand!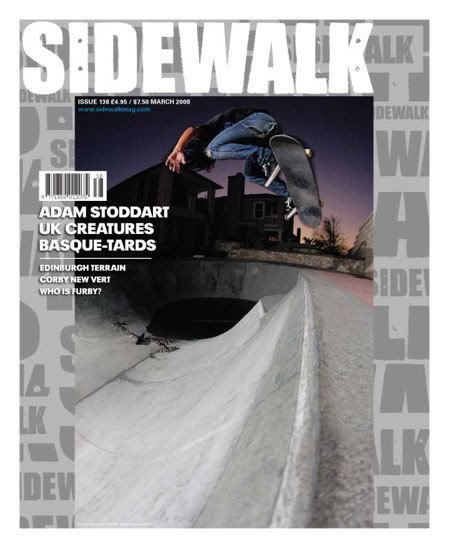 …and this time in another not-so-well known town called Bridlington on the east coast of England. This one was built by the company Gravity and goes by the name of Gasworxs Skatepark. By the looks of it (always difficult to say with pictures and video) it could be a nice smooth ride. Along with the bowls which have pool coping there is a good looking street-like area with a ditch being built.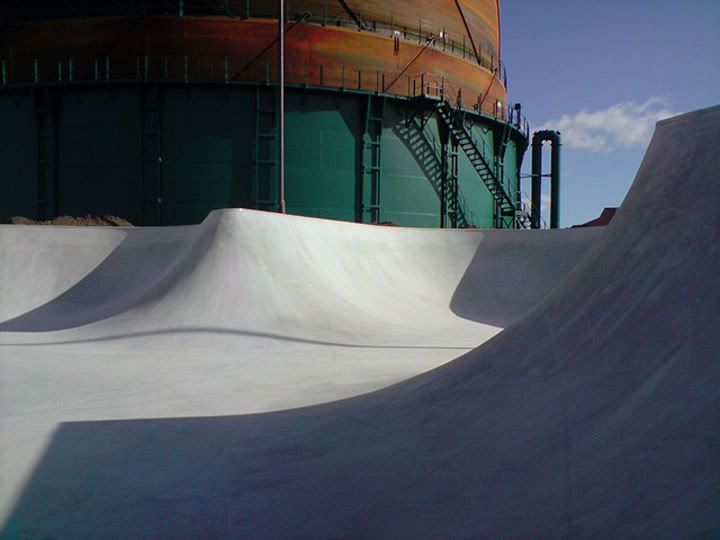 The park will officially April 12th (oh boy, now that's a hell of a wait for local skaters actually looking at this…hope they can resist to make sure the bowl settles correctly) and is located at
Moorfield Road
Bridlington YO15
England
The skatepark is located at the back of the car park off Moorfield road. We've included a map and a video for you as well.
All Europeskate Photo Of The Day Posts!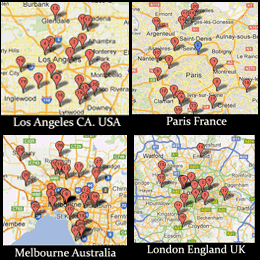 Find Your Skateboarding News Here!