Latest Skateboarding News On Europeskate!
Last Update: Tuesday, May 21st 2013 15:06 GMT+2

What ever is going on outside with the weather, it just plain sucks again! At least it's getting me back in here to get everything moving again after spending the entirer wekend fixing up the USPP site. So I'l get those major changes done here on Europeskate as well as keep the news flowing this week.

If you haven't heard about it yet, the United Skateboard Photography Project is now officially backed by the Grind For Life organization!

Grind For Life will be supported through 50% of the sales revenue of a printed 300-page hardbound book/mag with 5,000 copies being printed in the first run targeted to be released worldwide in November 2013 with skate photography + a Q&A + contact information from 50 selected photographers.

I am looking for skateboard photographers around the globe to show off their work (ONLY rights of use of the photographs for the website, advertising and book is needed: ALL photographs remain in the participating photographers ownership!) on the dedicated website and also you have the chance to be a part of a supporting a great cause - Grind For Life! Get involved and contact me at info@unitedskateboardpp.com today!

Jonathan


Germany has been catching up or better yet been keeping up with the worldwide concrete domination tour as parks seem to be popping up all over the place. Just last year a real beauty of a pool construction went up in a small town in Germany going by the name of Hagen and believe me, you would probably not just stop over here thinking there just might be a great pool somewhere!
Last weekend a few of Germany's pool hungry skaters met up in Hagen due to unusually high temperatures and had the year's first real session. Here's the video of session and you can see why you should get down there if you like pools! Thanks to Dietsches from Skateanddestroy.de for putting the video on the web.

Hagen Pool Germany Feb. 10 th 2008 from Dietsches on Vimeo.

Who says that only the newest skateboard videos can/should show up here…the Strongest of the Strange from Pontus Alv is a mix of filming from 2002 to 2005 stuffed with a great mix of terrains to make sure that this quite long movie doesn't get boring for us (it's over an hour long). Good to see the Steppe Side bowl, earlier named the Savanna Side Bowl in Malmö, Sweden which has been torn done twice already and some suspect the local city officials. Boy oh boy, they really must be bored or just plain jealous that their life sucks to go out and tear down a concrete bowl that doesn't bother anybody. So be it, officials can be let's just say different sometimes…
So if you are like me this weekend (I've caught the flu, damn!) then just sit back and enjoy this flick, it's good stuff!

Funny how companies which have dipped into several different markets such as skatebarding, snowboarding and surfing are currently reinforcing their orientation towards skateboarding, making sure us consumers really know that they are 100% behind skateboarding. Okay, maybe I am being a bit cynical here as it is completely regular business to bring out a new website to raise attention and turn some heads. Etnies just recently launched a skateboard only site and now I just found out about DC Shoes putting out "DCskateboarding.tv".
And this site is a personal favorite already for me: it combines a simplistic layout with large high-quality photography and it seems daily information about what the team members are up to. An assortment of short videos are also available to round off this nice site which offers us a small insight into the world of DCShoes and it's team.
DCskateboarding.tv website >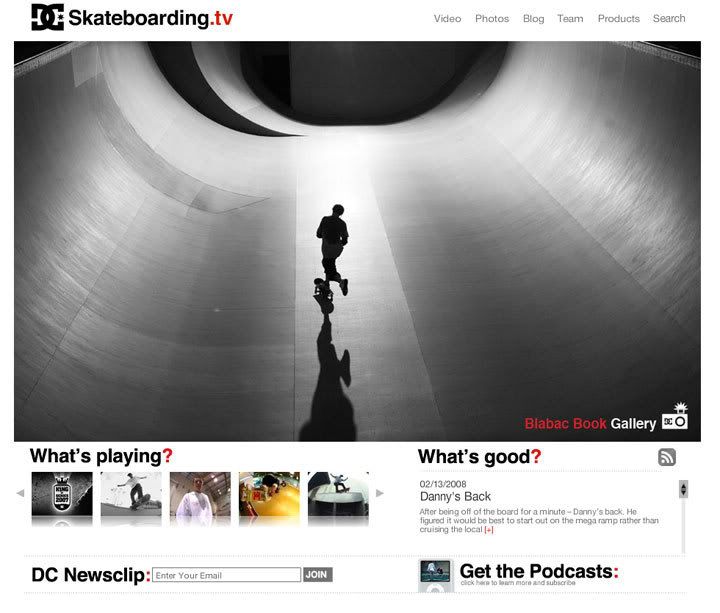 Another skate legend gets in the news today as we just found out that Pat Duffy finally got a shoes sponsor – Macbeth. Seems to be a company trying to get into the skateboarding sector but maybe I just don't what I'm talking about *hehe* I have never seen these shoes before so it would be good to hear from somebody out there about their experience with these shoes. I would guess that Pat Duffy wouldn't go for just any pair of shoes! Here's the official press release from Macbeth:
"MACBETH FOOTWEAR TEAMS UP WITH PAT DUFFY TO ADD SKATEBOARDING TO THEIR FAMILY OF MUSICIANS AND ATHLETES
Macbeth is proud to announce that they have joined forces with professional skateboarder Pat Duffy to stake their claim in the skateboarding community. The Marin County born skateboarder joins Macbeth while skating for the world-renowned Plan B skateboard team. Duffy's lifestyle is a great representation of the Macbeth culture because his love for skateboarding and playing the guitar aligns him with the brands rich history rooted in the music that has fueled a generation of skateboarders in Southern California. "Pat Duffy represents so much authenticity in the sport of skateboarding and we are very excited and honored to work with such a legend," says Marketing Director Rick DeVoe.
Plans are in the works for a signature shoe designed by Duffy and the Macbeth design crew that will converge classic skate design with Macbeth's signature low profile silhouettes. "I'm so excited to have been asked to join the MACBETH family," claims Duffy, "I really dig the look, feel and whole vibe of the company. I look forward to getting started on building a clean line of good-looking, functional and kick ass skate shoes, with something for everybody!! MACBETH ROCKS!!!!"
ABOUT MACBETH: Macbeth Footwear was founded in 2002 by Tom Delonge of Angels Airwaves, formerly of Blink-182, to create casual, fashion-forward products that reflect the attitude and lifestyle of the music culture and community within Southern California. Macbeth is the first footwear company to use music as its anchor, combining the input of over 30 bands for it's first footwear products and is also reflected in their recently launched Studio Projects; a series of collaborations between Macbeth and their family of Artists. Macbeth also has an extensive line of vegan shoes to support those that live a more conscious lifestyle. Macbeth products are distributed internationally and their range of products can be found in a range of retailers from fashion boutiques to major mall chains. For more information on Macbeth please visit macbethfootwear.com "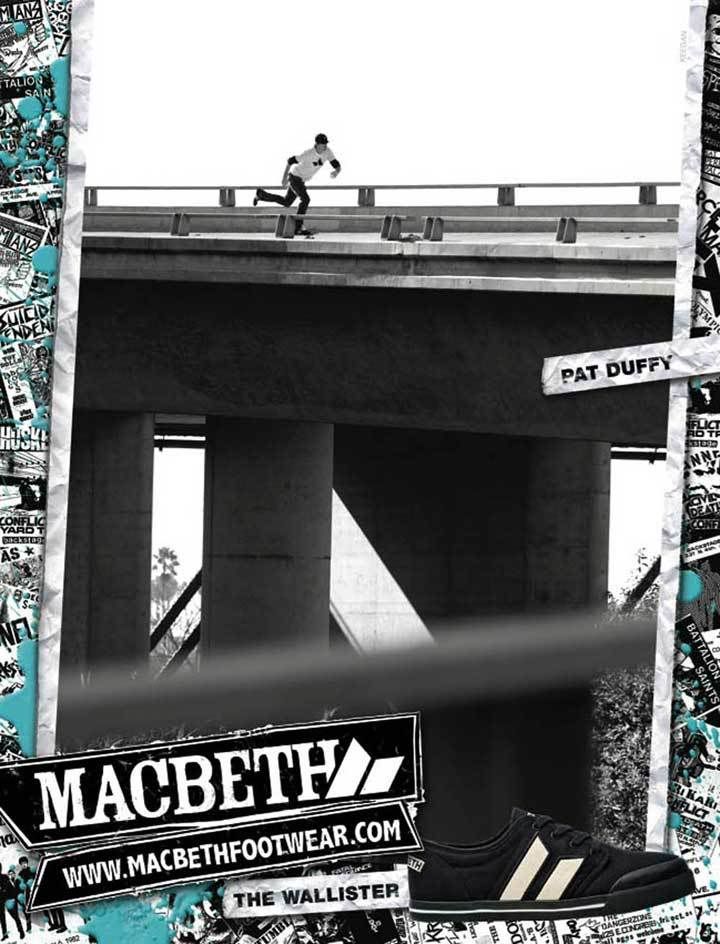 Episode 5 of the sixteen part series about John Cardiel has just gone live over on VBS.tv. Here's what Patrick himself has to say about this episode:
"Now we reach the early middle stretch of the John Cardiel series. Originally we were going to call the whole thing "Trip on This: The John Cardiel Story" because of how many times he says "trip on this" during the interviews, but it kinda didn't fit since the show is already called "Epicly Later'd."
Anyway, I have to thank two photographers without whom this episode would be far less epic. Bryce Kanights hooked me up with tons of photos of Cardiel back in the day, like the Boreal pictures, Ft. Miley, Studio 43, etc., so thank you Bryce! And Tobin Yelland actually gave me hundreds of photos and let me just go through all his raw footage from Fucktards and everthing. He just handed me a pile of high-8 tapes and said "help yourself." So all the weird bits of 16mm footage and shots of Julian driving around, those are from Tobin. Thanks!
I'm trying to save up some money to by some prints off those two right now. I think from Tobin I want the shot of Julian stealing the fruit and from Bryce I want either Gonz skating Alcatraz or Mike Carroll going over the hip at Boreal. Anyhow, enjoy the shows… when John gets on Anti-Hero, that's when shit really starts to pop off."

The latest issue of Thrasher Magazine (March 2008) has hit the newsstands and here's how Thrasher themselves describe what's in this new issue:
"Thrasher is proud to present the second-annual interview issue. Take a spin through the words and flicks of all your favorite rippers: Arto Saari, JT Aultz, Ted DeGros, Jake Brown, Matt Bennett, Daryl Angel, Terry Kennedy, Rick McCrank, Adam Dyet, Torey Pudwill, Matt Mumford, Marissa Dal Santo, and Lizard King!
The March issue also features a trip with Lance Dawes and the Independent team along the Atlantic Seaboard, and the first ever-documented ollie of Phoenix, AZ's The Wedge. Plus… A free Hubba poster!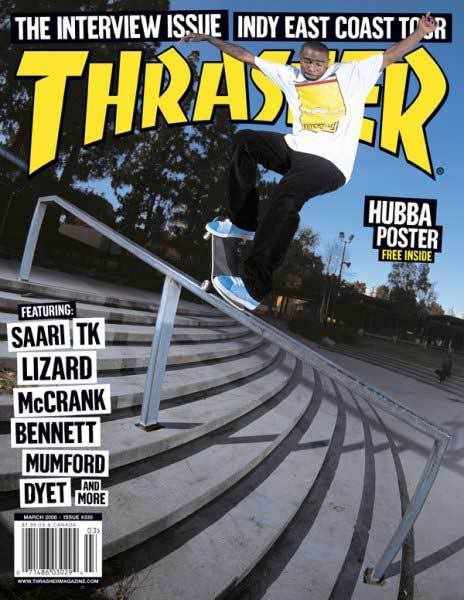 All Europeskate Photo Of The Day Posts!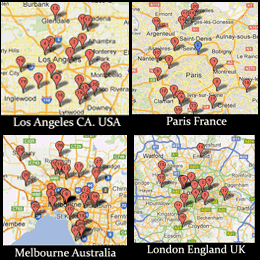 Find Your Skateboarding News Here!