Latest Skateboarding News On Europeskate!
Last Update: Tuesday, May 21st 2013 15:06 GMT+2

What ever is going on outside with the weather, it just plain sucks again! At least it's getting me back in here to get everything moving again after spending the entirer wekend fixing up the USPP site. So I'l get those major changes done here on Europeskate as well as keep the news flowing this week.

If you haven't heard about it yet, the United Skateboard Photography Project is now officially backed by the Grind For Life organization!

Grind For Life will be supported through 50% of the sales revenue of a printed 300-page hardbound book/mag with 5,000 copies being printed in the first run targeted to be released worldwide in November 2013 with skate photography + a Q&A + contact information from 50 selected photographers.

I am looking for skateboard photographers around the globe to show off their work (ONLY rights of use of the photographs for the website, advertising and book is needed: ALL photographs remain in the participating photographers ownership!) on the dedicated website and also you have the chance to be a part of a supporting a great cause - Grind For Life! Get involved and contact me at info@unitedskateboardpp.com today!

Jonathan

Here's the next rad episode of Pixels, episode 15 by Alan Glass to be exact which features a fine group of British skaters taken their skills to a bunch of spots along with Marc Churchill going a bit weird, probably after getting to much sun. Carl Wilson, Stu Graham, Nicky Howells, Salaar Kooshki and quite a few other talented skaters get to business.
Daniel Shimizu, Clint Peterson, Willy Akers, Ryan Harris, Marius Syvanen, Wes Kremer, Sid Melvin, Alex Horn, Jon Dickson and a few more skaters rip a bunch of spots for OJ Wheels – loving the grinds in those pools!
Western Edition's Spring Fling 2013 features Nate Keegan, Antony Lopez, Jabari Pendleton, Dwayne Galloway and new WE Japan Rider, Ryuhei Kitazume, skating in San Francisco to the first rays of the spring sun with some good jazz tunes to back them up.
It's a trailer so don't complain about the camera quality – Plague 2 is coming soon featuring Ben Raybourn, Drew Dezort, Andrew Dellas, Donovan Rice, Sam Hubble, Greg Harbour, Dusty Yauilla, Danny Scher and many more. The skating is pretty mad to say the least!
Pontus Alv takes to the streets with some hyper antics and a few sweet tricks thrown in for the heck out it.
Beer and skateboarding go pretty much hand in hand. After a great session or just partying with your friends, most of you have been there and done it.
There has already been a fair share of skateboard brands bringing out limited runs of beer but – correct me if I'm wrong – the gathering of skaters, surfers and other personalities joining together to create the brand "Saint Archer Brewing Co." stands out among the crowd.
Starting off with three different styles of beer – pale ale, blonde ale (Kölsch) and IPA – this is already looking good on a Friday afternoon. Wait a second, I'm going skating first!
All Europeskate Photo Of The Day Posts!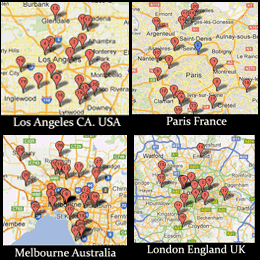 Find Your Skateboarding News Here!