Latest Skateboarding News On Europeskate!
Last Update: Thursday, May 16th 2013 09:16 GMT+2

Busy busy week for me at the moment as I am basically just writing and answering mails for the United Skateboard Photography Project and I hope to sit down and add tons of updates to the project's page today. I have also been getting new inspirations and ideas together for the next Europeskate relaunch which is coming soon. But the news and videos are still flowing: check out Antiz Skateboards Marock n Roll tour video and then get out and skate something. I'm headed out for a morning mini ramp session to warm up!

If you haven't heard about it yet, the United Skateboard Photography Project is now officially backed by the Grind For Life organization!

Grind For Life will be supported through 50% of the sales revenue of a printed 300-page hardbound book/mag with 5,000 copies being printed in the first run targeted to be released worldwide in November 2013 with skate photography + a Q&A + contact information from 50 selected photographers.

I am looking for skateboard photographers around the globe to show off their work (ONLY rights of use of the photographs for the website, advertising and book is needed: ALL photographs remain in the participating photographers ownership!) on the dedicated website and also you have the chance to be a part of a supporting a great cause - Grind For Life! Get involved and contact me at info@unitedskateboardpp.com today!

Jonathan

Here's over six minutes of unused footage from the "Perpetual Motion" video! Walker Ryan, Jimmy Carlin, Tom Remillard, Josh Matthews, Silas Baxter-Neal, and Julian Davidson let it rip. You can get the 25th video from Transworld Skateboarding here.
Check out the video trailer for the upcoming film by Colin Read called "TENGU: God of Mischief." which takes us to New York, San Francisco, Tokyo and Bordeaux for a good ride.
Featuring Leo Valls, Connor Kammerer, Alex Davis, Piro Sierra, Carlos Young, Ben Gore, James Coleman, Matt Town, Kennedy Cantrell, Alex Conn, Billy Rohan, TJ Sparks, Alex Fogt, Ryan Barlow, Masaki Ui, Kenji Nakahira, and many more from around the globe.
Here's a good interview with Guy Mariano talking about the pressure of having the last part in the Pretty Sweet video and lot more of his insights on life and skateboarding. Good to see him ripping still!
If you have been following Europeskate for a while then you know about the Europeskate Photo Of The Day Series.
In December 2012 I had the idea to create a new dedicated skateboard photography site as well as a 300-page hardbound book/mag called the "United Skateboard Photography Project" featuring 50 skatebaord photographers from around the world + interviews with top professional skateboard photographers. The idea and concept have grown, the feedback is already incredible and now I need your support. This is your chance to have your skills shown to a large audience around the globe and here's what you need to do:
- I'm looking for skateboard photographers (new and already featured Europe Photo Of The Day photographers) to create portfolio pages on the the "United Skateboard Photography Project" which is ready to go. Just send me a mail at info@unitedskateboardpp.com to let me know you are interested!
- All photographers who join up have a chance to be a part of the preliminary photgraphy viewing and be a part of the "United Skateboard Photography Project" book/mag which is a 300-page hardbound book/mag (9.65 inches width x 13.0 inches height [24.5 cm width x 33 cm height] colr matte finish) with every photographer being featured on 4 pages with a short Q&A + contact information and of course your skate photos.
- 5,000 books will be printed in the first run with 50% of the proceeds going to a skateboarder-backed charity foundation (I'm in the middle of talks and I should be able to announce the foundation in the next couple of days)
- To support the book development, printing, travel costs, shipping etc. 50 pages of advertising s available in the book and I'll be running a Kickstarter project for which we're currently filming a short video clip.
I need your support and feedback to contact me at info@unitedskateboardpp.com to get involved. Planned release date as of today is September 2013!
Giorgio Zattoni showed up at this year's Vert Attack 7 vontest in Malmö, Sweden taking home 3rd place in the Pro Division and leaving a huge impression of style and control behind. It's not like he's new to the scene, but it was great to see him skate a contest again.
Take a few minutes to watch Giorgio carve his way through the Big Air Lab Shop bowl and the Marianna Skatepark in Italy. Everything he does is with precision and my personal favorite in this video is his slob airs which are incredibly tweaked!
Organika Skateboards & Apparel presents 'Grow with Us', Walker Ryan's and Josh Anderson's new promo video. Believe me when I say this video is packed with some mad tricks.
All Europeskate Photo Of The Day Posts!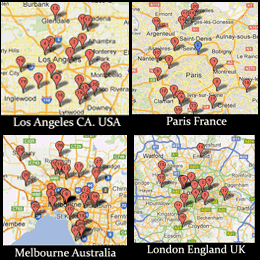 Find Your Skateboarding News Here!