Browsing articles in "Skateboard Contests And Events"
The skateboard contests this year keep coming in – our friends from the revamped online skateboard mag Free Mind Magazine sent over the news that on October 27th 2012 the city of Vilnius in Lithuania will be hosting the Lion Kontest 2012. Skateboarding is still having a much harder time to develop in many eastern European countries as the public funds are not floating around like in many other European countries.
So this is great news to see that the support is alive, we'll keep you posted about more events! Here's a link to the contest website to keep you informed about any changes.
New York City was the place to be in skateboarding these past few days (October 4 – 6 2012) as the first ever Vans Bowl-A-Rama contest in the United States took place with a great bowl to skate and a line-up of skaters which was insane. Pedro Barros annihilated the entire bowl as we have come to expect but it is always incredible to see what he does on that board. And we're really happy to see Lance Mountain coming out on top, well deserved! Check out the video action below!
Results for the Pro skaters division:
1. Pedro Barros
2. Alex Sorgente
3. Ben Hatchell
4. Kevin Kowalski
5. Mike Owen
6. Andy Macdonald
7. Joshua Rodriguez
8. Sky Siljeg
9. Steven Pineiro
10. Rune Glifbeg
11. Omar Hassan
Results of the Masters division:
1. Lance Mountain
2. Steve Caballero
3. Eddie "El Gato" Elguera
4. Christian Hosoi
5. Mike McGill
6. Chris Miller
7. Pat Ngoho
8. Tony Mag
The three-day skateboarding festival VANS BOWL-A-RAMA NYC has been going on since yesterday, October 4th and the contest itself will take place this Saturday, Ocotber 6th 2012 host some of the world's best pro and master division skaters including Pedro Barros, Bucky Lasek, Rune Glifberg, Steve Caballero and Chris Miller as they battle for the title of Vans BOWL-A-RAMA NYC 2012 Champion, and strive for their piece of the $55,0000 (US) prize purse. Continue reading »
If I remember it correctly the Maloof Money Cup started the huge prize purses at skateboard contests rolling and now the next version of the event has made it over to Kimberly, South Africa for September 27th until 30th 2012 featuring skating in street, vert and mini Mega Ramp fighting it out for ummh, a ton of money.
Some serious mini ramp skating took place at Volcom's invite only Jon's Ramp Jam in the UK featuring skating by Jake Collins, Kris Vile, Sam Pulley, Josh Young, Greg Nowik, Awadh Mohammed and quite a few other UK ramp rippers. I need to get in touch with Awadh Mohammed as he had some really excentric tricks built into his run which made me watch it a few times!
Playing catch up with all of the latest skateboarding news and happenings from the past two weeks and man, shit loads went down while I was on vacation. The Chili Bowl 8 in San Francisco was utterly insane, the crowd pushing the skaters to do things unheard of. The Potrero Del Sol skatepark was taken apart and after the dust cleared the reults were:
1. Raney Beres, 2. Eddie Moreno and 3. Jerry Gurney. In the women's division Mimi Knoop came away with the win and Jeff Hedges skated to first in the masters.
Sit back and enjoy the carnage!
All Europeskate Photo Of The Day Posts!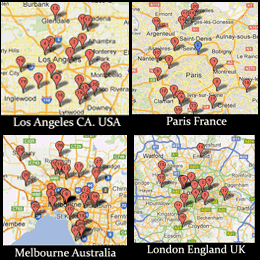 Find Your Skateboarding News Here!